Greek wine is ancient — grapevines arrived in the country 6,500 years ago. It's no surprise Greece has dozens of unique wine styles not found anywhere else. As for grapes, there are at least 300 commercial wine grapes native to Greece. Vinous traditions go deep in the country's thousands of islands.
And although modern-cut dry wine in Greece is fantastic, the country's sweet wines are alluring. Let's talk about sweet Greek wines. Greek dessert wine is on another level, but the category is more complicated than you think. Let's satisfy our sweet tooth with sweet Greek wine.
Subscribe to Wine Bugle!
Get updates on the latest posts and more from Wine Bugle straight to your inbox.
Sweet Greek Wines Explained
Not all sweet wines are created equal, and that goes for Greek sweet wine as well. There are two main types of Greek sweet wine: Fortified wines and naturally sweet wines.
Producers make fortified wines by adding a strong grape spirit to the fermenting must. The practice kills the sugar-munching yeast, resulting in partially fermented wine with an added alcohol boost and plenty of residual sugar.
Naturally sweet wines are not fortified. Instead, producers use dried or late-harvested grapes that are naturally sweet to make the wine, resulting in sweet wine that's not as alcoholic as the fortified versions. Sun-drying the grapes to achieve sugar concentration is not uncommon.
How sweet is the famous Greek wine? It depends. The grape and technique used determine the wine's final sweetness. Sweet wines made with Assyrtiko are never as sweet as those made with Moscato, for example. Needless to say, Moscato produces some of the sweetest wines on the planet!
Muscat
Muscat is an ancient family of over 200 grapes; it's one of the oldest still used to make wine, going back to the Ancient Egyptians. Known in Greece as Moschatos and Muscat or Moscato elsewhere, Muscat grapes vary. Still, they are all adapted to the warm Mediterranean climate and the sandy soils around the Mediterranean Basin — Moscato feels right at home in Greece.
The most common Greek Moscato is Muscat Blanc à Petits Grains, AKA Muscat Blanc or White Muscat. This grape accumulates a massive amount of sugar in summer, which is why it is usually behind sweet Greek wines.
The country has six appellations of origin or PDOs dedicated to the grape:
PDO Mavrodafni Kephalinias - Cephalonia

PDO Mavrodafni Patron - Patras

PDO Moschatos Kephalinias - Muscat Cephalonia

PDO Moschatos Lemnou - Muscat Lemnos

PDO Moschatos Patron - Muscat Patras

PDO Moschatos Riou Patron - Muscat Rion Patras

PDO Moschatos Rhodou - Muscat Rhodes
Muscat of Samos
Samos is one of Greece's easternmost islands and has its own PDO: Samos. Producers here make dry and sweet wines with Muscat, and amongst the sweet ones, the most famous is the Muscat of Samos — amongst the most typical Greek sweet white wines.
Here, Muscat grows in stone terraces at high altitudes, so they ripen while retaining balancing acidity. There are three sweet wine types on the island:
Sweet white from sun-dried grapes

Fortified sweet white (vin de liqueur)

Fortified sweet white made with sun-dried grapes
The wines made with grapes from the finest vineyards, often those in high altitudes, are labeled as 'Grand Cru.' And there's more; producers sometimes make a mistelle out of their Muscat grapes — this is fortified grape juice that is not allowed to ferment; and it's one of the sweetest grape-based drinks on the small island of Samos.
Food pairing: Custards, puff pastry, marmalades and pastry cream (Crème Pâtissière.)
Muscat of Lemnos
Not to be confused with the dry red wines labeled PDO Limnio, PDO Muscat de Limnos is an appellation reserved for sweet Greek Moscato.
Interestingly, Muscat Blanc is not the grape of choice on this northeastern Aegean Island, but Muscat of Alexandria. Legend says Cleopatra herself enjoyed a glass of Muscat of Limnos now and then!
While Muscat Blanc is known for its honeyed but grapey flavors, Muscat of Alexandria is more citrusy and fragrant, redolent of orange blossoms and zest. In Lemnos, the grape comes to life in three wine styles:
Sweet wine made with sun-dried grapes

Fortified sweet wine

Fortified sweet white made with sun-dried grapes
The island has a fourth sweet wine style: sweet red wine. This one is not labeled as Muscat of Lemnos but PDO Lemnos, and it's made with 90% Limnio (red) and 10% Muscat of Alexandria.
Food pairing: Dried fruit, dates, caramelized citrus fruit and fresh cheese.
Muscat of Patras and Muscat of Rio Patras
The Port of Patras, in the Peloponnese, had an immense significance in antiquity, and it is now known for its spectacular Greek sweet red wine — sweet white wines are typical in Patras, too!
Two grapes dominate the vineyards around Patras: White Muscat and Mavrodaphne. We'll talk about Mavrodaphne in a second, so let's focus on PDO Muscat Rio Patras and PDO Muscat of Patras, the region's two appellations for sweet white wine.
Muscat of Patras is the largest appellation. Here, Muscat Blanc is known as Moschoudi, and it is exclusively used to make three types of sweet wine:
Sweet white from sun-dried grapes

Fortified sweet wine

Fortified sweet white from sun-dried grapes
On the other hand, the PDO Muscat of Rio Patras is a smaller, overlapping appellation covering the region's coastal area. The grapes ripen a bit more in Rio Patras, so the wines are often more fruit-forward and sweeter. Again, PDO Muscat of Rio Patras relies on White Muscat, and producers can make the three wine styles described above.
Food pairing: Honeyed desserts like baklava, dried fruits, caramel desserts, puff pastry and custards.
Mavrodaphne
Mavrodaphne is a robust red grape, and it is typical in the Peloponnese, mainly around Patras. Producers can use Mavrodaphne to make dry red wine, but it is also used to make Greek sweet red wine.
There are two wine styles labeled as PDO Mavrodaphne of Patras, and they must be made with at least 51% Mavrodaphne:
Fortified sweet red

Sweet red from sun-dried grapes
Mavrodaphne is also used in the PDO Mavrodaphne of Cephalonia, in the Ionian island of Cephalonia. Here, Mavrodaphne must comprise at least 51% of the blend, and it shares the spotlight with the local Corinthian Black. The sweet red wines in Cephalonia are always fortified.
Food pairing: Chocolate desserts, truffles, coffee desserts, nut desserts and berry marmalades. Savory food compatible with sweet red wines includes blue cheese.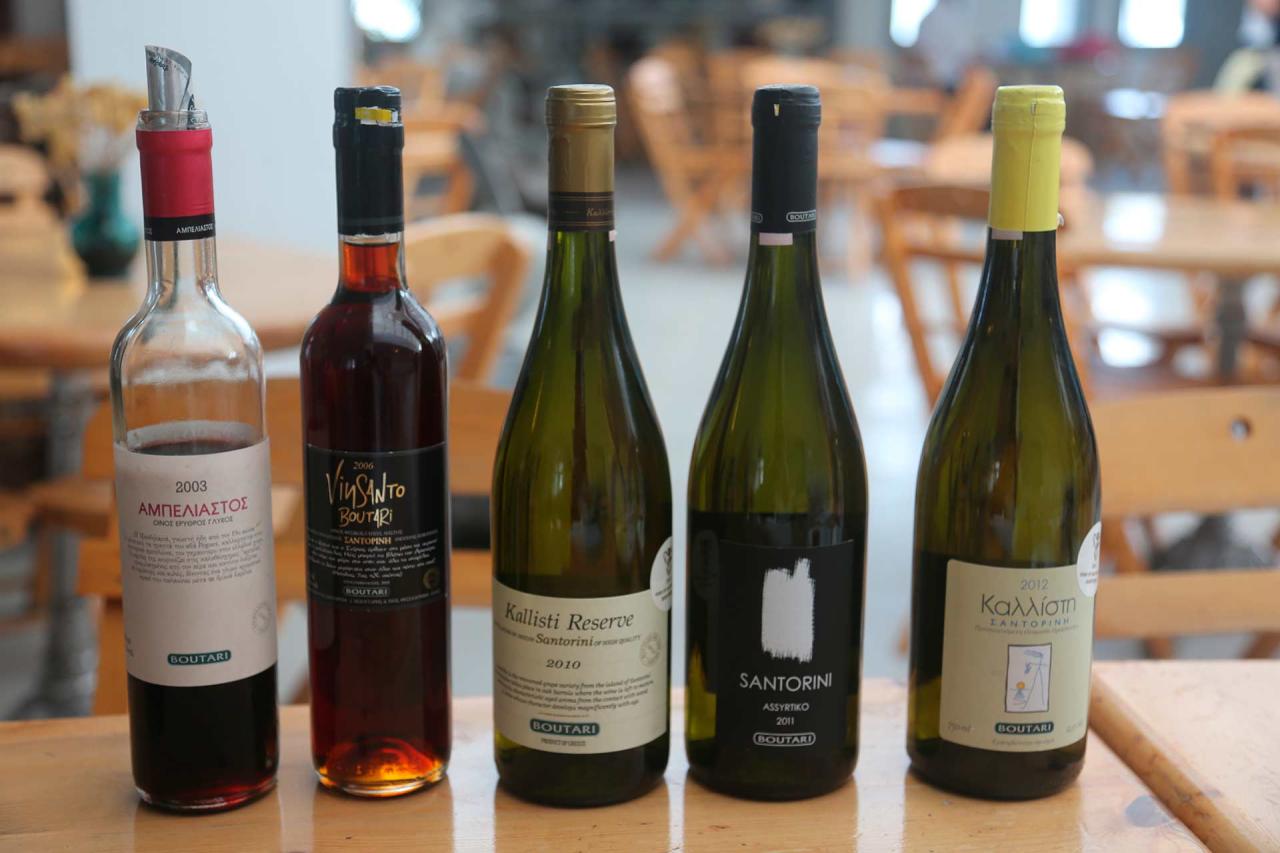 Vinsanto
Santorini is an Aegean island and a popular tourist destination. The island's white houses with details in blue are a sight to behold. Still, Santorini is also a prestigious wine source.
Santorini's dry white wine made with Assyrtiko, Athiri and Aidani is becoming world famous, but the island's sweet Vinsanto is not far behind. Vinsanto (not to be mistaken with Italian Vin Santo) is always made with sun-dried, overripe white grapes. The wine also sees 24 months of slow, oxidative maturation, resulting in a sweet and golden-brown wine.
Vinsanto is floral and nutty, with ripe pitted fruit aromas and a honeyed palate. Vinsanto often comes through as spicy and rustic. Resolute producers usually age Vinsanto for 4, 8 and even 12 years before releasing it.
Food pairing: Nuts and seeds, caramel, dried fruit, honey, coffee-flavored treats and brown spices. Vinsanto is also delicious on its own as an after-dinner drink.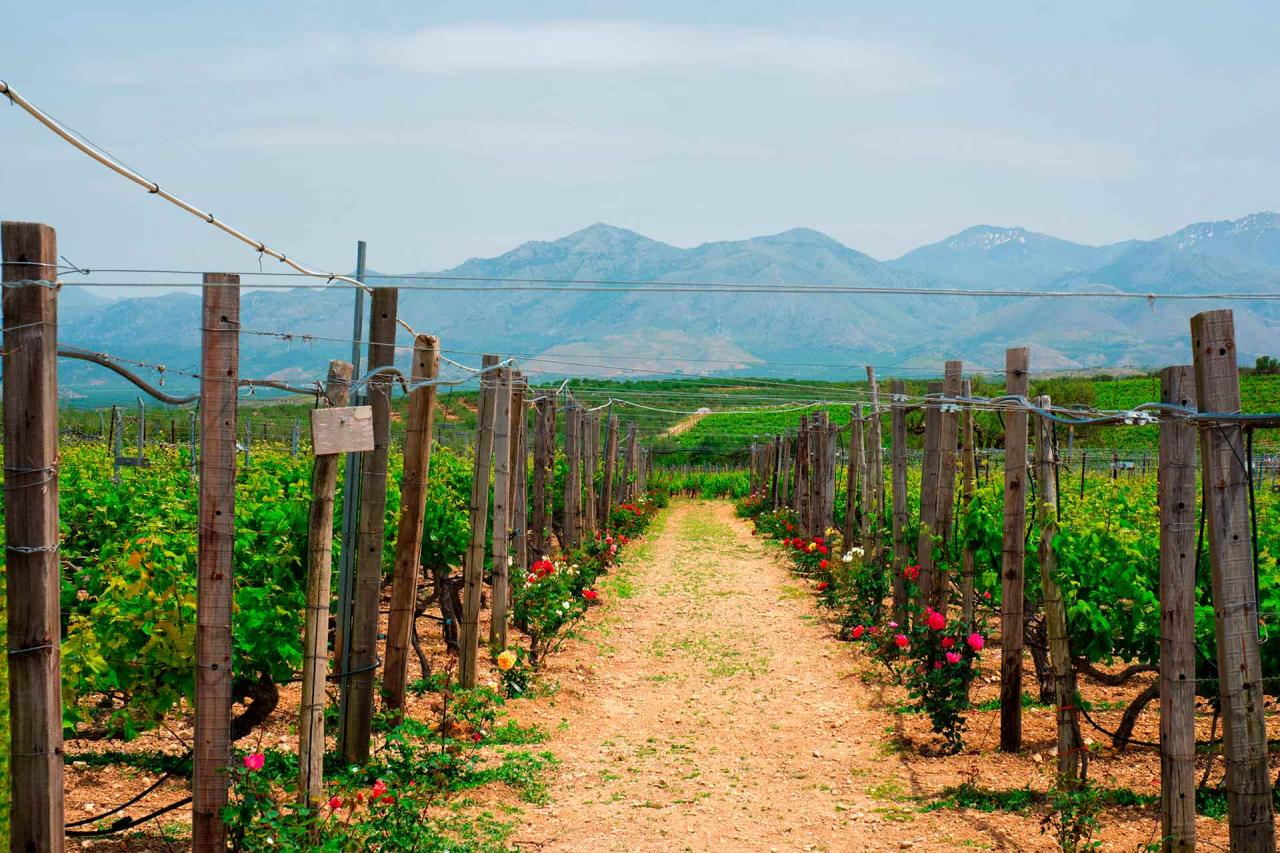 Liatiko
Liatiko is a lesser-known varietal found mainly in Crete, Greece's most extensive and southernmost island. Crete is the birthplace of Greek wine and has rich vinous traditions.
Liatiko is a red grape, and it is used to make both dry and sweet wines. The sweet kind is a specialty in PDO Sitia, and the wines can be fortified and made with sun-dried grapes.
Sweet reds made with 100% Liatiko are also famous in PDO Dafnes, another appellation in Crete. And although not as well known, PGI Crete is a wonderful source of sweet red wines; the area produces several semi-sweet, sweet and fortified wines made with the grape.
Food pairing: Chocolate desserts, caramel, truffles, walnut and pecan pies and toffee.
Malagousia
Malagousia went from being a grape everyone thought was extinct in the 1970s to one of the most exciting varietals in Greece today. The floral and citrusy grape originates in Central Greece and has always been used to produce sweet wines.
Although Malagousia is still relatively unknown, it is commonly seen in PDO Rhodes, on Rhodes island, closer to Turkey than it is to mainland Greece! Malagousia is not the most planted varietal on the island, though, as it shares vineyards with Muscat, Athiri, Mandilaria and Assyrtiko. Still, Malagousia sometimes plays a role in blended wines — some of them are sweet — they are made with late-harvested grapes.
Food pairing: Fruit desserts, lemon pies, tarts and marmalades. Semi-sweet Malagousia is also compatible with savory food, especially white meat and seafood.
There's a Sweet Wine For Every Occasion
There's no doubt Greece is in love with sweet wine, and with such a variety of sweet specialties, there's a Greek dessert wine for every occasion.
Finding your favorite sweet wine from the Mediterranean country is no easy feat — there are too many options! Of course, every bottle of wine is an adventure, so you'll have a great time exploring the famous sweet Greek wines.